Smok introduces the Spaceman 10K Pro, a revolutionary disposable vape device that promises an impressive 10,000 puffs. Compact, portable, and loaded with innovative features, this disposable vape is set to redefine the vaping experience. Let's delve into the details of the Spaceman 10K Pro and discover why it's making waves in the vaping community.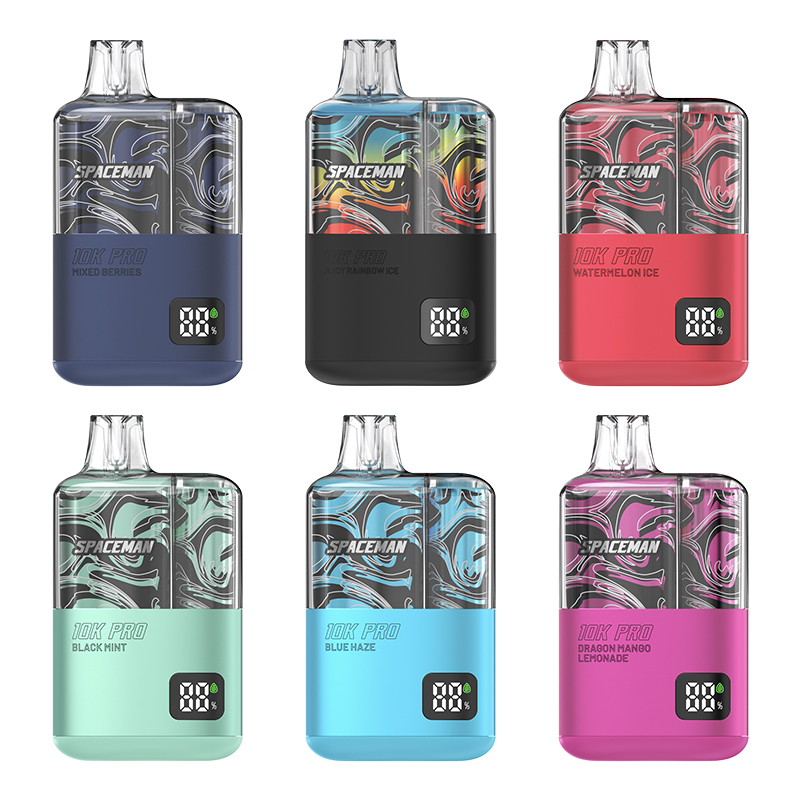 Design and Durability:
The Spaceman 10K Pro boasts a sleek and compact design, making it perfect for on-the-go vaping enthusiasts. Its durable build ensures that it can withstand the rigors of daily use, providing a reliable and long-lasting vaping companion. The device is prefilled with 16ml of Smok's signature flavors, ensuring a delightful and consistent vaping experience with every puff.
Impressive Battery Life:
One of the standout features of the Spaceman 10K Pro is its robust 800mAh rechargeable battery. This powerhouse ensures an extended vaping experience, allowing users to enjoy up to 10000 puffs on a single device. Say goodbye to frequent recharging and hello to a vape that keeps up with your active lifestyle.
Innovative Coil Technology:
Equipped with an integrated mesh coil design, the Spaceman 10K Pro delivers unparalleled flavor and smooth, consistent hits. The advanced coil technology enhances the overall vaping experience, making it a standout choice among disposable vapes. Whether you're a seasoned vaper or a newcomer, the Spaceman 10K Pro caters to all preferences with its exceptional coil performance.
Smart Display Screen:
Keeping users informed and in control, the Spaceman 10K Pro features a smart display screen. This intuitive interface accurately displays the battery and e-liquid levels, allowing vapers to monitor their usage and plan accordingly. The inclusion of a display screen adds a layer of convenience, ensuring a seamless vaping experience.
Fast Charging Capabilities:
The Spaceman 10K Pro takes convenience a step further with its USB Type-C charging port. This feature facilitates faster charging, minimizing downtime and ensuring that your vape is always ready when you are. Say goodbye to long waiting times and hello to a device that keeps up with the pace of modern life.
Dual Bottom Airflow Options:
Customization is key, and the Spaceman 10K Pro delivers with its dual bottom airflow options. Users can fine-tune their vaping experience to suit their preferences, whether they prefer a tighter draw or a more airy inhale. This level of customization sets the Spaceman 10K Pro apart in a market saturated with disposable vapes.
Conclusion:
In summary, the Spaceman 10K Pro by Smok is not just a disposable vape; it's a game-changer in the world of vaping. With its impressive battery life, advanced coil technology, smart display screen, fast charging capabilities, and customizable airflow options, this device caters to the diverse needs of vapers. Elevate your vaping experience with the Spaceman 10K Pro, where innovation meets satisfaction.