Recently, the Jolly CBD Delta Blend Disposable stands out as a true game-changer. Offering an unmatched blend of flavor and cannabinoids, this vaping device promises to leave your taste buds thoroughly pleased and your body and mind in a state of euphoria. Let's delve deeper into what makes the Jolly Cannabis Disposable Vape a standout choice.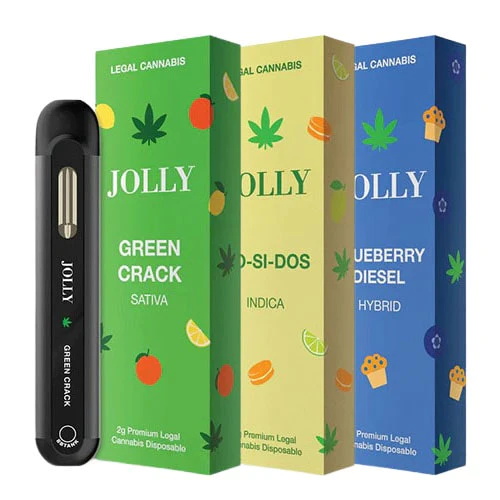 A Glimpse into Jolly CBD Delta Blend Disposables
The Jolly Cannabis Disposable Vape is more than just a vaping device; it's a testament to quality, durability, and performance, all wrapped up in a compact and sleek design. Despite its slim profile, this device is remarkably comfortable to use, making it an ideal choice for vapers of all levels of expertise.
One of the key highlights of the Jolly Cannabis Disposable Vape is its convenience. It comes pre-filled and pre-charged, meaning you can start vaping right out of the box. The automatic firing mechanism ensures that vaping is effortless, allowing you to focus on savoring the experience. With an integrated 350mAh rechargeable battery and a generous 2mL tank capacity, you'll enjoy many sessions before needing a recharge or refill.
Unveiling the Performance
The performance of the Jolly Cannabis Disposable Vape is nothing short of impressive. It features the BBGear Ceramic Coil, boasting a 1.2ohm resistance that delivers exceptional performance and consistency with each puff. This means you can count on a smooth and satisfying vaping experience every time you pick up this device.
What truly sets the Jolly Cannabis Disposable Vape apart is its proprietary blend of cannabinoids. Inside this sleek device, you'll find a carefully crafted mixture of Delta 9, CBD, CBG, and CBN, along with flavorful strain-specific terpenes. This unique blend ensures that your body and mind are treated to a well-rounded and harmonious experience, leaving you feeling refreshed and satisfied.
Strain-Specific Satisfaction
The Jolly Cannabis Disposable Vape is available in several strains, catering to a wide range of taste preferences. Whether you're a fan of fruity notes, earthy undertones, or something in between, you're sure to find a Jolly CBD Delta Blend Disposable that resonates with your taste buds. This level of variety makes it one of the most intriguing vaping devices to hit the market this year.
In conclusion, if you're seeking an elevated vaping experience that combines exceptional flavor with a unique blend of cannabinoids, the Jolly CBD Delta Blend Disposable at vape online store is the device for you. Its user-friendly design, impressive performance, and a wide array of strain options make it a standout choice among vaping enthusiasts. Elevate your vaping journey with the Jolly Cannabis Disposable Vape and discover a world of flavor and euphoria like never before.